Webinar on Digital Minimization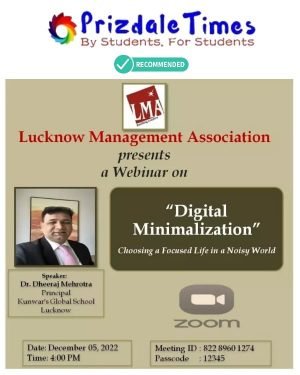 The Lucknow Management Association presents a webinar on "Digital Minimalization" — choosing a focused life in a noisy world.
The webinar will be conducted by Dr. Dheeraj Mehrotra, Principal of Kunwar's Global School, Lucknow.

It will be held at 4pm on Monday, December 5, 2022.

Prizdale Times recommends this workshop.

One-Hour Online Workshop on How to Stop Procrastinating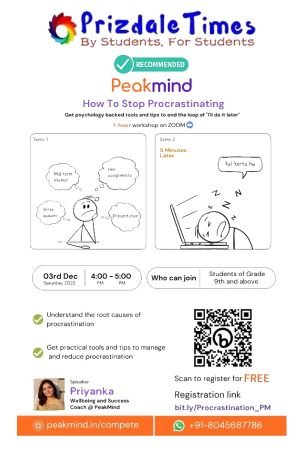 The hour-long workshop by Peakmind will focus on ways to avoid procrastinating and provide psychology-based tools and tips to end the loop of "I'll do it later."
It will help understand the root causes of procrastination and provide useful suggestions related to managing and reducing the habit. 
The workshop will be conducted by Priyanka, a renowned wellbeing and success coach, and is open to students from Grade IX and above. 
Prizdale Times recommends this workshop. 
Live Discussion on Impact of Pandemic on School Finances by Prizdale Learning
"Coronavirus impact: Temporary school closures may cost India more than $400 billion," says World Bank. And that was in Oct 2020 … now with another year added due to the virus, we can easily extrapolate the figures. Education is one of the worst-hit sectors during the pandemic. Children are at home, a lot of teachers are jobless, and school buildings and infrastructure are deteriorating day by day. The pandemic is affecting education, but KILLING schools. "Covid Effect: Over 1,000 schools up for sale across India," reports the Times of India.

To discuss all these burning issues, Prizdale Learning is fortunate to have Dr Ashok Pansari, Chancellor & Founder, Royal Global University and Royal Global School, Guwahati. Dr Pansari has more than three decades of experience as a successful chartered accountant and an edu-preneur of the North East. He has many feathers in his cap. He is a newspaper columnist, an author, a motivational speaker and above all an educationist by the core of his heart. Join a Live Discussion on July 10, 2021 at 05:00 pm. This is part of the Prizdale Talk series, organised by Prizdale Group.
The live discussion will be available on the YouTube channel https://bit.ly/3AxqBLc and Facebook www.facebook.com/prizdalelearning. Team Prizdale; RSVP : 9696227554