A Milestone in Education Collaboration
In a momentous development, Union Minister for Education and Skill Development, Shri Dharmendra Pradhan, and Australian Education Minister, Hon'ble Jason Clare, MP, announced the opening of two Australian Universities in GIFT City, Gandhinagar. The campuses of Wollongong and Deakin Universities were officially inaugurated at an event named 'Arambh' (The Beginning), symbolizing a new era in international education.
The move aligns with India's National Education Policy (NEP) 2020, emphasizing the internationalization of education. The Vice-Chancellors of Deakin University and University of Wollongong highlighted the growing bilateral relations between India and Australia, showcasing the resilience of collaboration even during challenging times like the COVID-19 pandemic.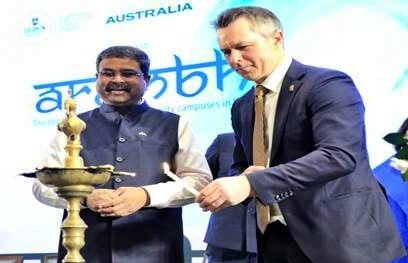 Shri Pradhan expressed his joy at the inauguration, emphasizing the role of foreign university campuses at home in facilitating "Study In India." He praised the visionary efforts of Prime Minister Shri Narendra Modi in transforming India's education landscape through the NEP 2020. The Minister envisaged a vibrant and inclusive educational environment where students and faculty from around the world collaborate and grow together.
Later in the day, both ministers addressed a 'Research Dialogue: New Horizons in Research Collaboration.' Shri Pradhan urged university leaders and researchers to catalyse opportunities for deepening bilateral research collaborations between India and Australia. Emphasizing the commitment to promoting research for mutual prosperity and global well-being, he highlighted the importance of research for the benefit of society.
The day concluded with discussions on Industry Education Partnerships, where the ministers engaged with academicians and industry leaders. The focus was on strengthening education-industry connections, fostering R&D collaboration, and enhancing the synergy between academia and industry for mutual growth.
This significant step forward marks a 'Gift' to the student community and reinforces the commitment of both nations to advancing education, research, and industry partnerships.
Credits: Press Information Bureau, Delhi