We invite all students from grades 1 to 8 to participate in Prizdale Poem Recital Contest 2023. This is your chance to show off your amazing poetry skills and wow everyone with your words.
Who Can Join?
Any of you, from the clever first graders to the cool eighth graders, can join in on the fun. You can choose any poem or your choice.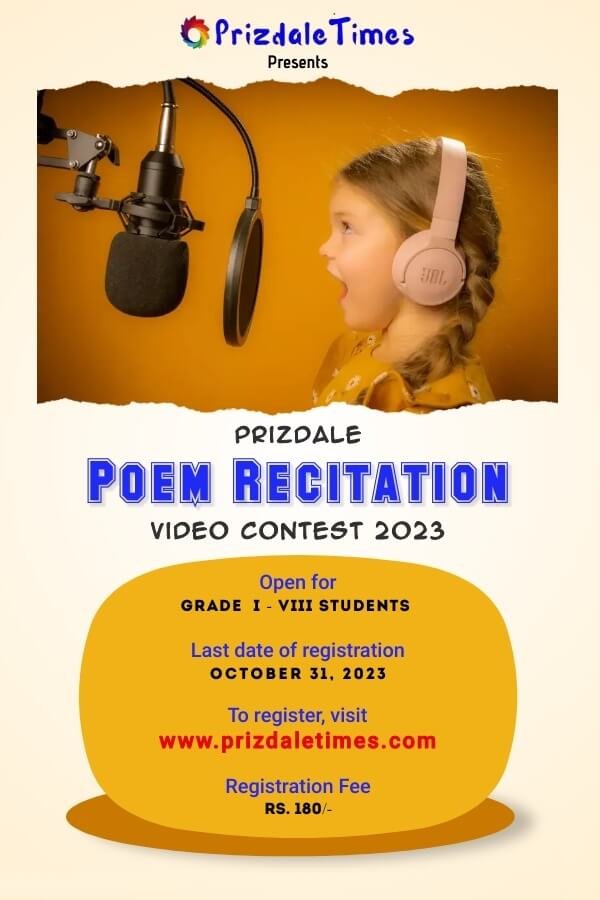 Don't Miss Out on Dates!
Sign-up Deadline: November 5, 2023 ( Date extended due to requests by some schools).
Video Upload Deadline: November 5, 2023
Make sure to mark these dates on your calendars so you don't forget!
How to Sign Up
Joining is easy-peasy! Just register for the contest by clicking here (the link will open a new payment page of our sister website Prizdale Learning), and pay a small admin fee of Rupees 180 per contestant. This fee helps us organize the competition and bring you more cool events in the future.
What to Do
To participate in the Prizdale Poem Recitation Contest 2023, follow these steps.

1. Select a poem or nursery rhyme of your preference, either in English or Hindi. Ensure that the chosen text and its meaning are in no way offensive to any individual or group.
2. Make certain that your recitation is clearly audible, and the video is of high quality.
3. It's important to note that there won't be a fixed date or time for the contest, as it's conducted solely online. Participants are required to record their videos at home and subsequently upload them via a Google form provided upon registration.
4. Be sure to complete this process before the designated closing date. This ensures your entry is considered for the contest. Happy reciting!
Video Guidelines
To ensure your video entry is of the highest quality, please follow these guidelines:
Orientation: Please record your video in a vertical format, similar to platforms like TikTok, Google Shorts, or Instagram Reels. This ensures optimal viewing on our website.
Duration: Keep your recitation video under 60 seconds. This time limit allows for concise and impactful performances.
Lighting: Position yourself in a well-lit area, with the light source coming from in front of you, not from behind. Natural daylight or soft, diffused artificial lighting works best.
Background: Choose a clutter-free, clean, and visually pleasing background. It should complement your performance without overpowering it. Avoid extremely bold or distracting colors that could detract from your recitation.
Stability: To prevent any shaking, use a tripod or stable surface like a table to secure your phone or camera. This ensures a steady and professional-looking video.
Quality: Record your video using a high-quality smartphone or video device. This ensures clear visuals and allows viewers to fully appreciate your performance.
Audio: Ensure your audio is crisp and clear. Perform in a quiet environment to minimize background noise. Consider using an external microphone for enhanced audio quality if available.
Everyone's Invited!
We're not just inviting kids from India, but also our pals from all around the world! Whether you're studying in India or in a faraway land, you're welcome to be part of this poetry party!
Paying is a Breeze
Remember, you can only pay the sign-up fee online using Indian financial companies. Thanks for understanding!
Cool Prizes Await!
Winning is awesome, and we've got some shiny medals for our top three winners in each category. These medals will be a special reminder of your amazing talent.
Your Moment in the Spotlight
But wait, there's more! Prizdale Times is all about celebrating talent, and we'll be featuring an article about the winners. Plus, the best recitals will be showcased on our social media pages like Facebook, YouTube, and Twitter.
Parent's OK
When you sign up and join the competition, we'll need your parents' permission to share your video on our website, sister websites, and social media networks like Facebook, YouTube, and Twitter.
So, what are you waiting for? Start practising now. We can't wait to be blown away by your poetry recitation!
Got questions? Give us a shout at info@prizdale.com. Get ready to recite and dazzle!