Get ready to embark on an incredible cricketing journey that's all about fun, friendship, and empowerment! The Union Minister for Education and Skill Development & Entrepreneurship, Shri Dharmendra Pradhan, has launched an exciting initiative called 'CRIIIO 4 GOOD.' This fantastic program, created in partnership with cricket legends from the International Cricket Council (ICC), UNICEF, and the Board of Control for Cricket in India (BCCI), is here to spread the magic of cricket while championing equality between boys and girls.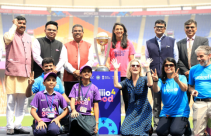 Imagine a grand event at the iconic Narendra Modi Stadium in Ahmedabad, where a whole bunch of important people gathered to unveil something special. We're talking about Minister for Tribal Development, Dr. Kuber Dindor, Minister of State for Parliamentary Affairs, Shri Praful Pansheriya, the awesome folks from UNICEF like Ms. Cynthia McCaffrey, and many more! Even superstar Indian cricketer Smt. Smriti Mandhana was there to cheer on this fantastic initiative. But you know who the real stars of the show were? Over 1000 enthusiastic children who came to join the fun!
Now, here's the cool part. Shri Dharmendra Pradhan reminded everyone about how important it is to treat boys and girls equally, just like the National Education Policy 2020 suggests. 'CRIIIO 4 GOOD' is like a superpower that uses the popularity of cricket to make girls feel strong and let everyone know that boys and girls are equally awesome. Plus, he mentioned the Nari Shakti Vandan Adhiniyam, which is like a super law that's taking India closer to girl-powered greatness!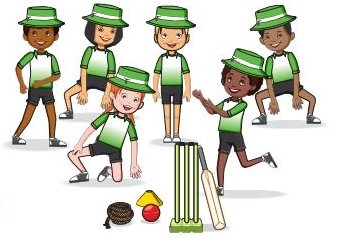 Okay, so what exactly is 'CRIIIO 4 GOOD'? Picture this: eight amazing cricket adventures in the form of cool animated films. These films aren't just about cricket; they're about life skills and being fair to everyone. They teach us important things like how to be a good leader, solve problems, be confident, make decisions, talk things out when we're not happy, understand how others feel, work together as a team, and set big goals. And guess what? These lessons come to life with mind-blowing cricket action!
The best part? You can watch these films for free, and they come in three awesome languages: English, Hindi, and Gujarati. So, no matter where you're from, you can enjoy 'CRIIIO 4 GOOD'!
But wait, what's 'CRIIIO'? It's like cricket's fun cousin! While cricket is usually played with hard balls and big teams, 'CRIIIO' is all about being creative. You can play it in a park, on the street, at the beach, or even inside with any bat and ball you like. It's all about having a blast while playing your way.
Guess what? You can be a 'CRIIIO' champion in your own community! If you're over 13, you can organize 'CRIIIO' games with your friends, family, neighbors, or anyone you know. Just go to (www.icc-cricket.com/about/development/criiio-cricket-programme) and follow the easy steps to bring 'CRIIIO' to your area. It's all about fun, fun, and more fun!
Now, here's the real game-changer – the ICC criiio cricket program. It's like a treasure chest of cricket knowledge! This program has an 8-week plan that teaches you how to bat, bowl, field, and play cricket with your buddies. It's all about having a blast while learning cricket step by step.
But guess what? 'CRIIIO 4 GOOD' isn't just about cricket; it's also about making sure everyone stays safe and happy. That means looking out for each other and making sure we all have a fantastic time while playing.
Credits : Press Information Bureau, Criiio4good