Have you got a unique talent and wish to showcase your act to the entire world? Do you think you have got some hidden forte and even your close friends don't know about it? Then it's time to come forward. Share your special talent in a one-minute video and we will publicise some top acts, selected by an esteemed panel of judges, on various portals and social media websites.
You never know – your video could become viral, you could emerge as a celebrity overnight and even get offers from the movie and television world. So what are you waiting for? Grab your smartphone or any other video recording equipment and start recording your song, dance, musical performance, nursery rhyme, mimicry, poem recital, aerobics, craft, juggling, sewing, etc. etc. etc. (the list doesn't end here. Just be a little imaginative.)
To participate in the Prizdale Times Talent Hunt 2021, which is being organised in association with Laurels International School, you need to be a student of up to class XII in any school in India or abroad and must follow some basic rules listed below. These guidelines are important for the judges to consider your act.

PLEASE NOTE: ONLY FIRST 100 ENTRIES WILL BE CONSIDERED FOR THE TALENT HUNT

We don't have a typical last date for you to submit your entries. The Google Form will stop accepting videos after about first 100 submissions. So send your acts as soon as you are ready.  But we do have a deadline – May 31, 2021, when the Google Form will disappear completely and you would not be able to submit. (So the last date is first 100 entries or May 31, whichever is earlier. You could submit as long as Google Form says it's accepting responses).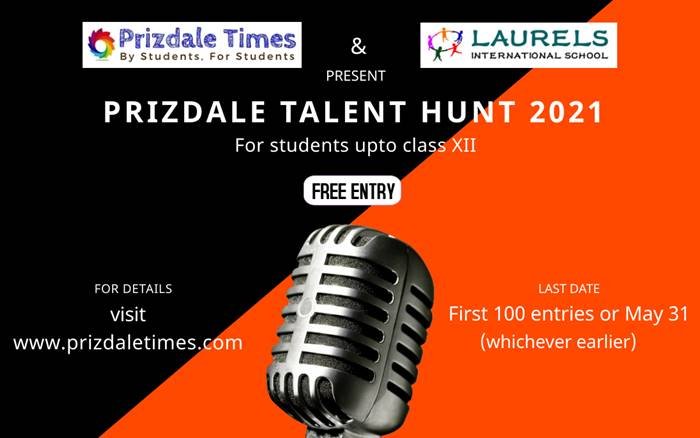 NO CONVENTIONAL REWARD

Some of you might get disappointed to learn that you will NOT receive any trophy, medal, cup or any other physical reward for participating in the talent hunt. Instead you would get recognition for your talent. Some selected acts will be published and uploaded on Prizdale Times — India's leading children's magazine for school students, young writers and budding artists – sister websites of Prizdale and on various You Tube channels and Facebook and Instagram pages. That's not all. Everyone will get an e-Certificate by email. So don't forget to send your email, and write your name as the filename of the video you upload via the Google Form.
IMPORTANT POINT TO NOTE FOR YOUR ENTRY TO QUALIFY FOR THE TALENT HUNT

We need an original piece of work, prepared exclusively for the Prizdale Times Talent Hunt 2021. You CAN'T submit an already published or uploaded work. You must also ensure that you are not breaching any national or international copyright rules (that may lead to disqualification).

To ensure that you have made your video just for the Prizdale Times Talent Hunt, you need to speak the word "Prizdale" at the start or end of your work. It could be something like "Hello Prizdale Times" or "Thank You Prizdale". (You could also say: "You are Amazing Prizdale Times" or "Prizdale is the Best", but obviously that will not help you score higher marks. We pronounce "i" of Priz-dale as we say "i" of Brick-lane). The words should be spoken (NOT added in the video as a title or subtitle) and be in the same dress and background as the most of your video. This is a necessary qualification.  This portion could be deleted at the time of editing, but it will ensure that you have made it just for this event.      

RULES AND GUIDELINES OF THE TALENT HUNT
The competition is open to all students up to class XII of any school in India or abroad.
First 100 videos will be considered. No entries will be accepted after May 31, 2021
It should be an original piece of work; any video already published or uploaded on the internet will not qualify
The entries should not breach any national or international copyright rules
All videos MUST have the word "Prizdale" spoken at the start or the end (See details above)
Prizdale Times, Prizdale Group and other sister units may publicize entries, including videos of children, received for the talent hunt. It could be on websites, newspapers, advertisements and social media, such as Facebook, Twitter, You Tube, and Instagram
Students should NOT submit their entries without the consent of their parents. It's their responsibility to seek the permission of their parent's permission
Filling and submitting the Google Form and participating in this talent hunt will mean that parents are giving their consent to use names, pictures and videos of the participants and their work for publicity.
Prizdale Group, Prizdale Times, Prizdale Learning and other sister companies will own the rights for the submitted creative work.
The decision of the judges will be final
There will be no physical award such as trophies, medals or cups. Rather selected entries will be published and uploaded on Prizdale Times and other social media websites
Every participant will get an e-Certificate by email