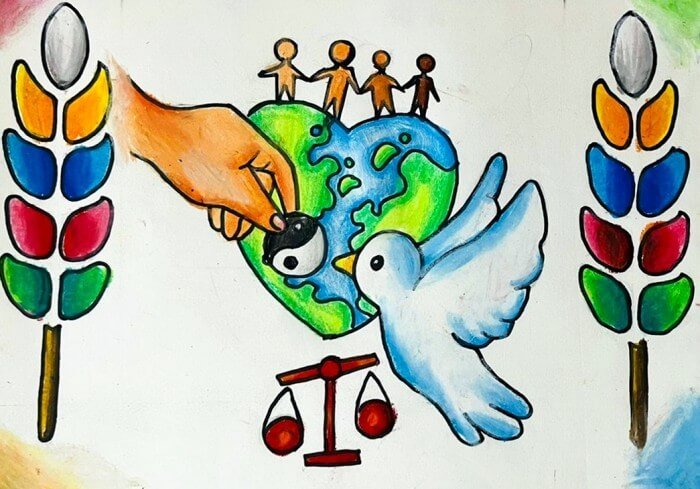 We are thrilled to announce the results of the online flag designing competition. We received an overwhelming response from talented students in grades 5 to 6 and 7 to 9, who passionately showcased their creativity and design skills through their flag designs. The competition was a tremendous success, with participants from diverse backgrounds and a wide range of imaginative interpretations.
Flags are powerful symbols that represent the identity and values of a country, state, or community. The submitted entries demonstrated the profound understanding of this significance, as each design captured the essence and aspirations of the place it represented. It was truly inspiring to witness the dedication and thoughtfulness that went into crafting these remarkable flags.
After careful deliberation by our esteemed panel of judges, we have selected the top three winners in each category. These exceptional designs stood out for their creativity, originality, symbolism, and overall design. We extend our heartfelt congratulations to all the winners for their outstanding achievements.
Stay tuned as we proudly present the list of winners, along with their incredible flag designs. We are immensely proud of all the participants and would like to express our gratitude to everyone who contributed to the success of this competition. Your passion and talent have truly made this event a memorable one.
Anant Kumar Sahu - Visual Artist and Educator
Anant Kumar Sahu is a highly accomplished visual artist and educator, known for his exceptional talent in the field of visual arts. Anant has dedicated his life to exploring the realms of creativity and artistic expression. He holds a B.F.A. and an M.F.A. from the prestigious Indira Kala Sangeet Vishwavidyala, Khairagarh, and went on to earn a Ph.D. in Visual Arts from Allahabad University. Anant's academic achievements also include qualifying the U.G.C. Net Examination, which granted him eligibility for lectureship
With an illustrious career spanning several decades, Anant has garnered extensive experience as an educator and has taught as a visiting lecturer and guest faculty at renowned institutions such as the University of Allahabad and the Faculty of Fine Arts, Jamia Millia Islamia. He has also served as the Director of Studio 98 in Bhopal since 2023. Anant's artistic prowess has been showcased through numerous solo shows both nationally and internationally. His works have been exhibited in esteemed galleries such as the Devlalikar Art Gallery in Indore, Alliance Francaise de Bhopal, and the M.F. Husain Art Gallery in New Delhi.
Anant's talent has been recognized through his participation in various group shows and international art events. Notably, he has been selected for exhibitions such as the International Biennial of Mini Print Laguna Paiva in Argentina, the International Art Graphic Biennale in Tirana, and the Guanajuato International Postal Print Exhibition in Mexico, among others. Anant's works have found homes in private collections around the world, including Korea, Australia, Canada, and Holland.
Jhumuk Das (J.D.) Manikpuri - Ceramic Artist
Jhumuk Das, also known as J.D. Manikpuri, is a talented ceramic artist known for his creative prowess and artistic expressions. He completed his Bachelor of Fine Arts (B.F.A.) in 2009 and Master of Fine Arts (M.F.A.) in 2011 from I.K.S.V.V. Khairagarh in Chhattisgarh. Throughout his artistic journey, Jhumuk has participated in various group exhibitions and showcased his work at renowned galleries and events. His works have been featured in group exhibitions like the Annual Exhibition at I.K.S.V.V. Khairagarh from 2009 to 2011, Nehru Art Gallery in Bhilai in 2010, and the "Pravesh Art Exhibition" held in multiple cities including Pune, Bombay, Indore, Goa, Bhilai, and Raipur in 2013.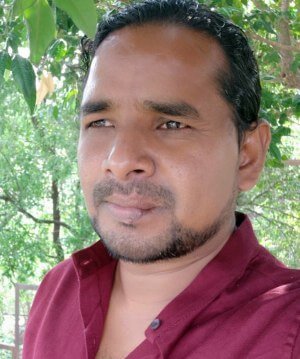 Jhumuk's artistic talent has also been showcased in notable exhibitions such as the "Maati Kala" National Exhibition at Bharat Bhawan in Bhopal in 2014, the Khajuraho Artmart in 2015, Lalit Kala Academy in Lucknow in 2016, and Alliance Français de Bhopal in 2018, among others.
Jhumuk has actively participated in camps and workshops to further enhance his skills and knowledge. Noteworthy engagements include Lalit Kala Academy Regional Camp in Ranchi in 2013 and the Ceramic National Camp at Bharat Bhawan in Bhopal in 2013 and 2016. His artistic creations have found a place in the collection of Bharat Bhawan in Bhopal, further showcasing his talent and recognition in the field of ceramics. Currently associated with the Ceramic Department at Bharat Bhawan in Bhopal, Jhumuk Das continues to explore the boundaries of his artistic expression.
WINNERS
Senior Category (Classes 7 to 9)
Junior Category (Classes 5 to 6)