The Union Education Minister, Shri Dharmendra Pradhan, is currently on a significant three-day visit to Singapore aimed at bolstering bilateral cooperation in the fields of education and skill development. During his visit, Shri Pradhan engaged in productive discussions with key Ministers of the Singaporean Government and visited Spectra Secondary School, where he had the opportunity to interact with students and teachers.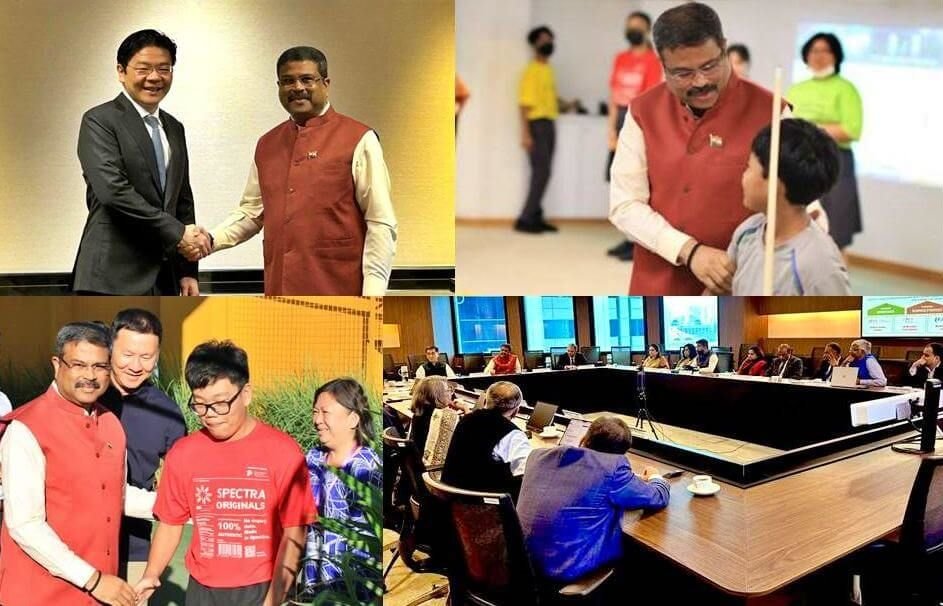 One of the highlights of the Minister's visit was his meeting with the Deputy Prime Minister and Minister for Finance of Singapore, H.E Mr. Lawrence Wong. Both leaders focused on reinforcing the existing collaboration between India and Singapore and emphasized the importance of lifelong learning, future-ready workforce development, and the integration of knowledge and skill development as key pillars of the strategic partnership.
Shri Pradhan highlighted the Indian Government's commitment to vocational education, as demonstrated by the National Education Policy (NEP) launched in 2020. He shared that the NEP places significant emphasis on providing early exposure to vocational education in middle schools, ensuring the market relevance of training, and strengthening the capacity of institutions to provide technical and vocational education. The Minister also expressed keenness to learn from Singapore's best practices and customize them to meet India's unique needs.
Another important meeting took place between Shri Dharmendra Pradhan and Singapore's Minister of Trade and Industry, H.E Mr. Gan Kim Yong. Their discussions revolved around deepening skill development and vocational training linkages, creating a seamless architecture for skilling and lifelong learning. They also explored avenues for India to leverage Singapore's expertise and knowledge in addressing shared challenges and transforming the Indian skills ecosystem.
In addition to the ministerial meetings, Shri Pradhan's visit included a visit to Spectra Secondary School, where he gained insights into the school's teaching-learning environment and pedagogy. He was pleased to learn that the institution places a strong emphasis on skills-based education and tailored learning approaches that prepare students for future workplaces.
The visit of Union Education Minister Shri Dharmendra Pradhan serves as a crucial step towards enhancing collaboration and learning from Singapore's successful models in education and skill development. The discussions and interactions during this visit will pave the way for mutual growth and benefit not only India and Singapore but also other emerging economies.